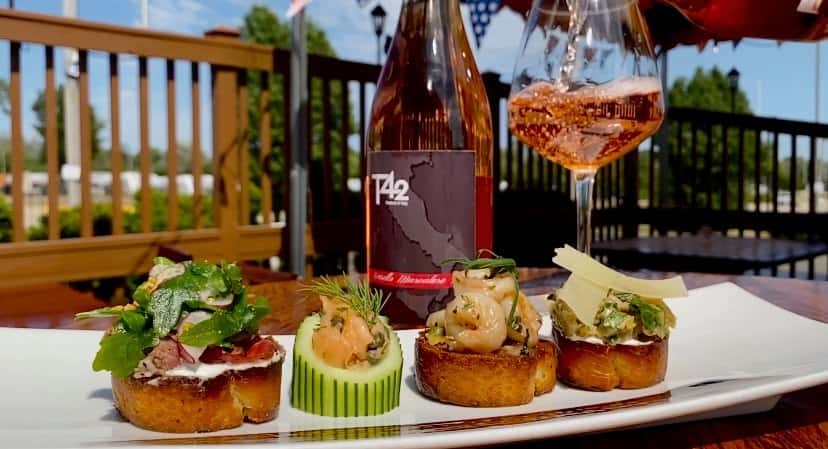 About
We believe in the best moments.
T42 is a Small Plate Concept where it's Toast! Tapas! And Tradition! Our full-service restaurant was established in February 2021 by Anthony and Brandy. With a modern twist, the food menu is Italian, Seafood & American Bistro and our ingredients come in fresh daily! From Charcuterie Boards, Flatbreads, Crostini's, Italian dishes, specialty seafood, 3 oz filets, sliders, to unique fries such as Avocado, Portobello, & Polenta. ALL dishes are meant to be shared or not! Items come out of the kitchen as soon as they are READY, so you may get hot dishes before the cold dishes, we communicate with our guests to make sure we create the right experience for the table. Our ingredients come in fresh daily. We will also be introducing intermezzos, exclusive sorbets for cleansing the palate
T42 has private label wines 12 varietals and growing!!! Our wines are imported from regions in Italy and Sicily. We will have an upscale Wine Club, Wine Lockers, Monthly Wine Experience, and retail discounts! Guest will have the opportunity to enjoy a Wine Experience tasting 3 whites, and 3 Reds each month paired with small bites of food for each wine.
We also have our own private label spirits, rum, gin, and a bourbon whiskey blend. We even have our own premium, handcrafted vodka called Klutch.
T42 is about giving back, supporting the industry and community, we have programs such as a Hospitality Industry, where a discount is given at certain times, Coconut Point Mall employee discount, a concierge program with the hotels, a Realtor, and an Auto dealership which each home rented or sold will receive a $10 or $25 Certificate, a loyalty program, catered to the locals with a VIP where they will always be a guarantee, a reservation for a table.
T42 creates a Dining Experience that you deserve, from the time you are greeted at the door to the servers, to our managers, and to even us, the owners! We want you to be relaxed and feel at home, T42 is about the Brand and going beyond Guest expectations!!
Our restaurant theme has famous quotes from, Katherine Hepburn, Frank Sinatra, Tim McGraw. The quotes are to make you smile, laugh, and some will bring a tear. These quotes relate to all age groups, guests will talk about and remember the dining experience at T42 where you are always welcome to our home, here at T42!